What Is Implantology?
What is an implant? To answer this question, it is important to know that natural teeth consist of two main parts: the crown and the root. The crown is the visible part of the tooth, while the root is located under the gum inside the jawbone (the alveolar bone).

The implant replaces the root of a tooth. It can be thought of as an artificial root. Usually made of titanium, the implant is inserted into the jawbone. Once in place, it can be fitted with a prosthesis, which replaces one or more teeth.

It is important to know that the placement of implants is generally not painful when done properly by a properly trained health care professional. Viewing the images or the description of the operation may cause misgivings in many patients.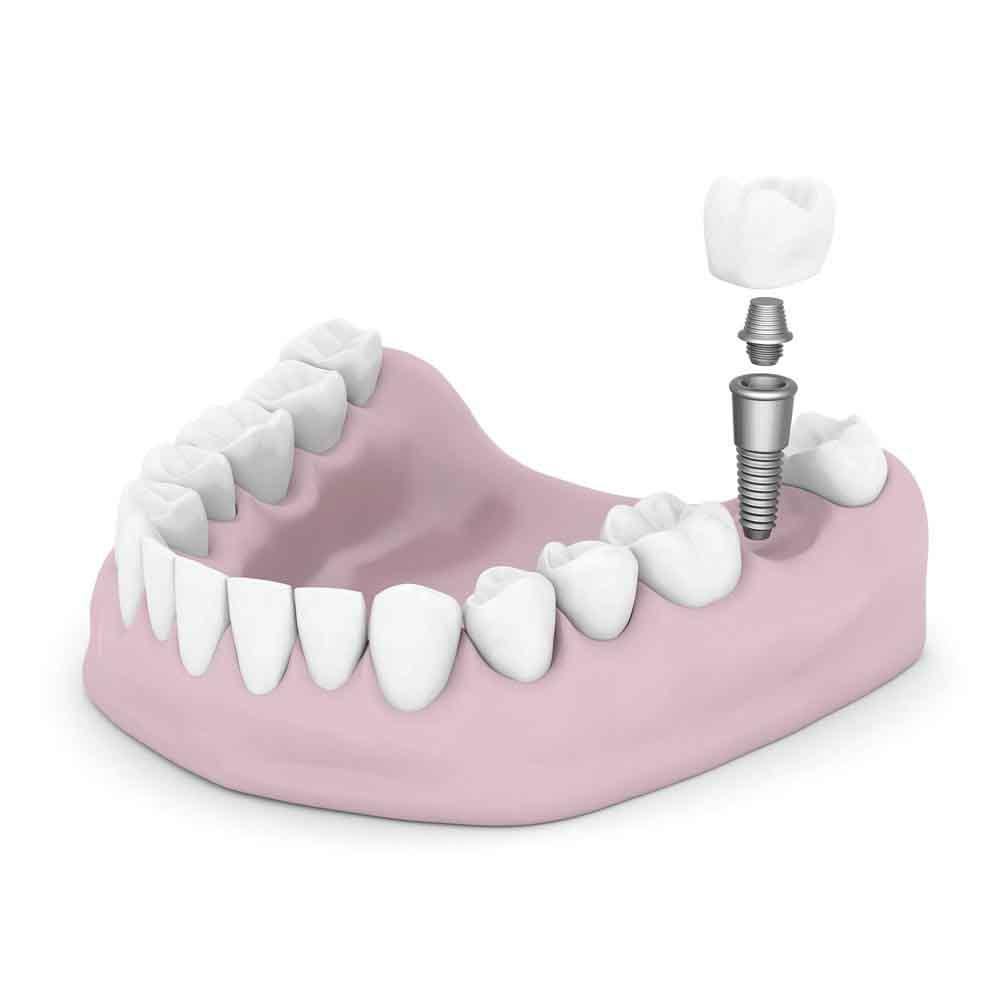 First of all, rest assured: the placement of implants does not cause pain during the operation, which is performed under local anesthesia and is usually quick (depending on the number of implants placed). However, if the idea makes you anxious, our team can give you appropriate medication to help you relax.
After the operation, swelling and discomfort may occur, which can be easily controlled and relieved with the use of painkillers. These side effects rarely last more than 24 hours. Implant placement is, so to speak, an easier operation than a simple extraction!

Our implantology professionals are highly qualified to make your experience a smooth one. They guarantee you a quick, efficient and painless operation. They are also available to answer any questions you may have about the procedure and healing. Our entire team will be there to reassure you if you have any fears or apprehensions.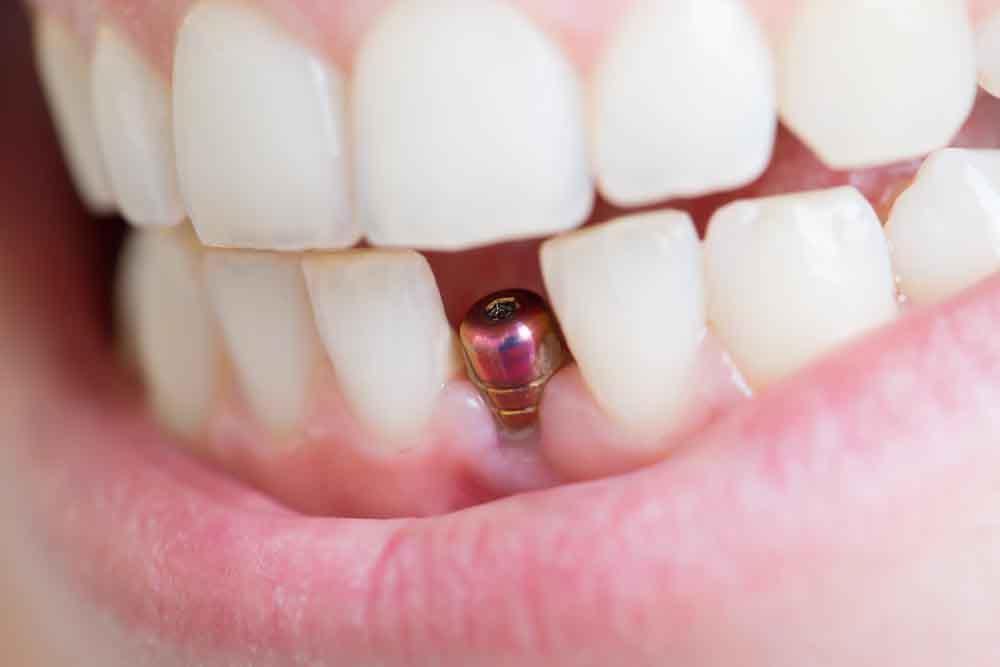 When Are Implants Considered?
Dental implants are considered for patients who wish to replace one or more missing teeth. In both cases, one or more implants will be installed to restore optimal chewing function.
From an aesthetic point of view, the implant looks much like a real tooth. It is also more comfortable: since it is fixed, it does not move and never causes inflammation. In contrast, the removable prosthesis can lead to this type of problem if poorly maintained or cleaned. In addition, it is less pleasant to eat certain foods with this type of prosthesis, which tends to move or jam certain foods. The implant, on the other hand, allows you to regain optimal masticatory function: in other words, it is as if you still have your "real" teeth!

Dental implants therefore have many advantages over other solutions. If you have any doubts or questions about implants, our professionals can direct you and tell you more, without ever imposing a decision or putting pressure on you.

Ultimately, the choice is up to the patient, according to the treatment plan discussed and recommended by your dental health professional.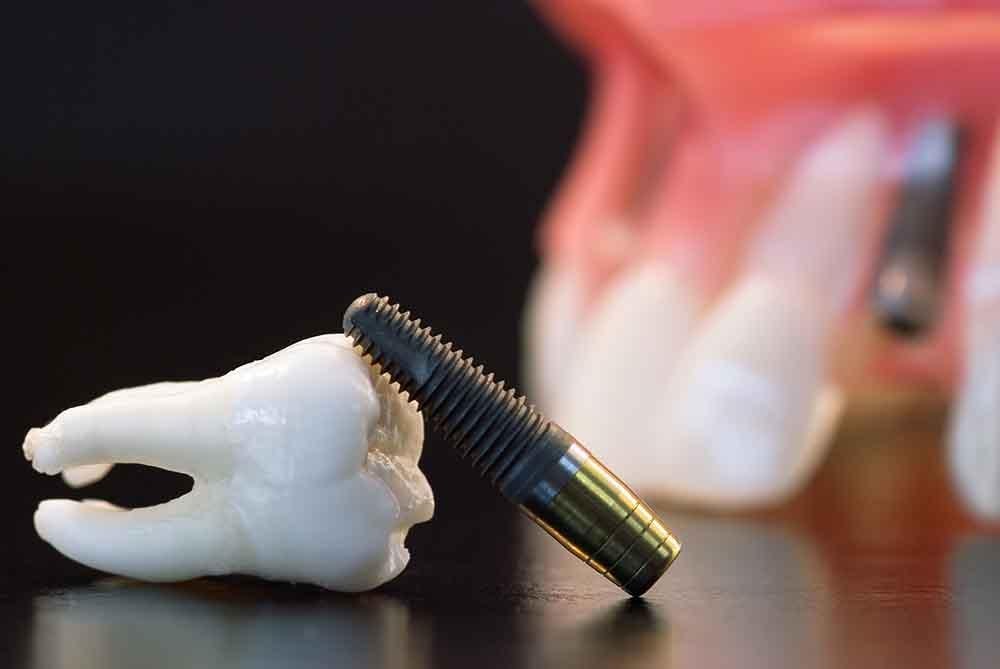 How Long Have Implants Been Around?
In the 1950s, the Swede Per-Ingvar Brånemark discovered the affinity between titanium and living bones. However, it took many years of research, until the mid-1980s, for the dental implant technique to become known and spread throughout the world.
Professor Brånemark, who is recognized as the father of modern dental implantology, also discovered that living bone has the ability to integrate or bond with the titanium of the implant. This phenomenon is called osseointegration. Through osseointegration, the implant can become a stable and strong anchor, just like a natural tooth root. Dental implants made of titanium have been shown to be both resistant to chewing forces and durable.
"I'm too old… if I were 20 years younger I would do it…"
Age has nothing to do with the success of an implant treatment. People who call themselves too old have come to terms with the fact that they may not be able to receive such a procedure or that it is simply not worth it. Based on the feedback we regularly receive from our patients, most agree that if they had known that stable dentures would provide such benefits, they would have done so before.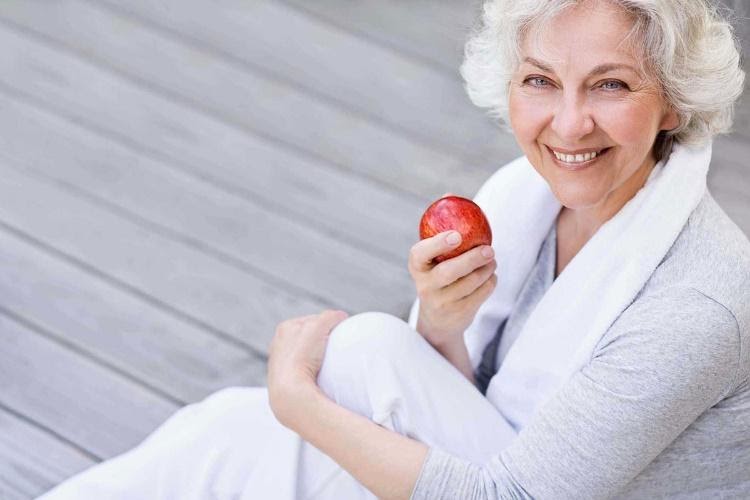 Just because you've already made the choice at some point to wear conventional removable dentures doesn't mean you can't change your mind. Implants save you a lot of worries and provide you with a better quality of life.

The future benefits are far greater than the small inconveniences of the beginning of the healing period. No one can predict when we will leave this Earth! So, if you think you're too old at 60, 70 or 80, know that life expectancy is constantly increasing and that your "expiration date" may be much later than you think! Therefore, why not change this attitude? Instead, tell yourself: "I want to spend the time I have left enjoying life to the fullest. I'd like to eat what I want, without always being afraid of losing my prostheses in public!" It's simply a matter of life philosophy!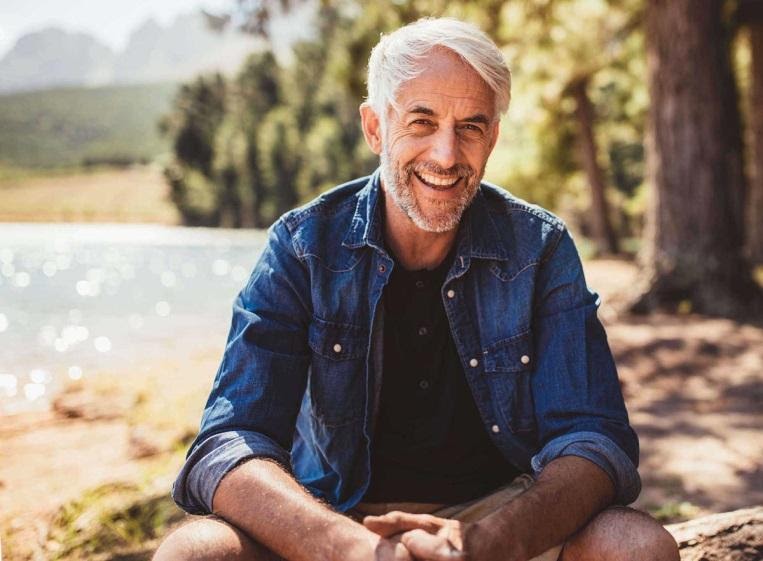 What Effects Do Implants Have on Diet?
Do you dream of being able to bite down on nice meaty cuts or all those good raw vegetables that provide you with essential vitamins and minerals for good health? Whether you need to replace one or more teeth, the stability and comfort provided by a complete or partial denture supported by implants will contribute to better overall health through better chewing, thus promoting better digestion.
Dental implants will allow you to eat everything you want, not just what you can. No more denture glue! No more spaces in your mouth left by missing teeth. You'll have a radiant smile that will allow you to bite into life to the fullest.
How Do Implants Contribute to Self-Esteem and Aesthetics?
Have you ever been to a restaurant in good company and thought about what you're going to eat… a choice based on the consistency of the food rather than your actual taste? Do you think that your choice of food always prioritize soft food because otherwise your prosthesis will hurt you or be very unstable? Have you changed the way you chew to reduce the amount of food that goes under your denture; otherwise you would have to go to the bathroom immediately to rinse the denture and dislodge the particles? Do you avoid smiling too much in public for fear that your dentures fall out? These are real, ongoing complaints from our patients who need help.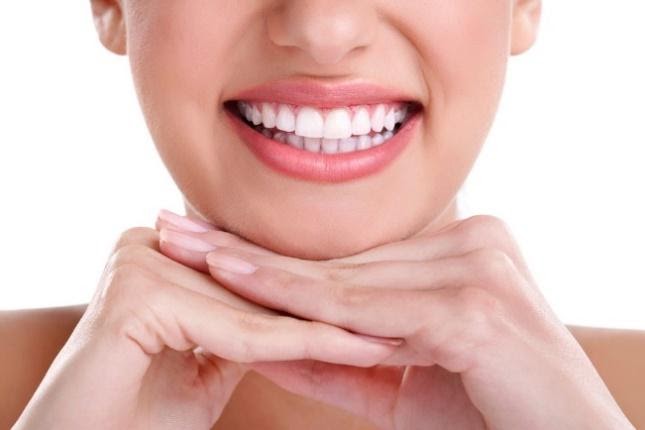 All of these elements contribute to reduced self-confidence and self-esteem. The energy you spend thinking about what could happen if your prosthesis fell out prevents you from fully living in the present moment. Insecurity thus generates a loss of self-esteem that can undermine your daily life. The solution lies in the fabrication of a prosthesis stabilized by dental implants. Imagine a prosthesis that supports the chewing of the hardest foods, raw vegetables and all the pieces of meat you desire. That's the reality of an implant-supported prosthesis: fewer worries for a better life.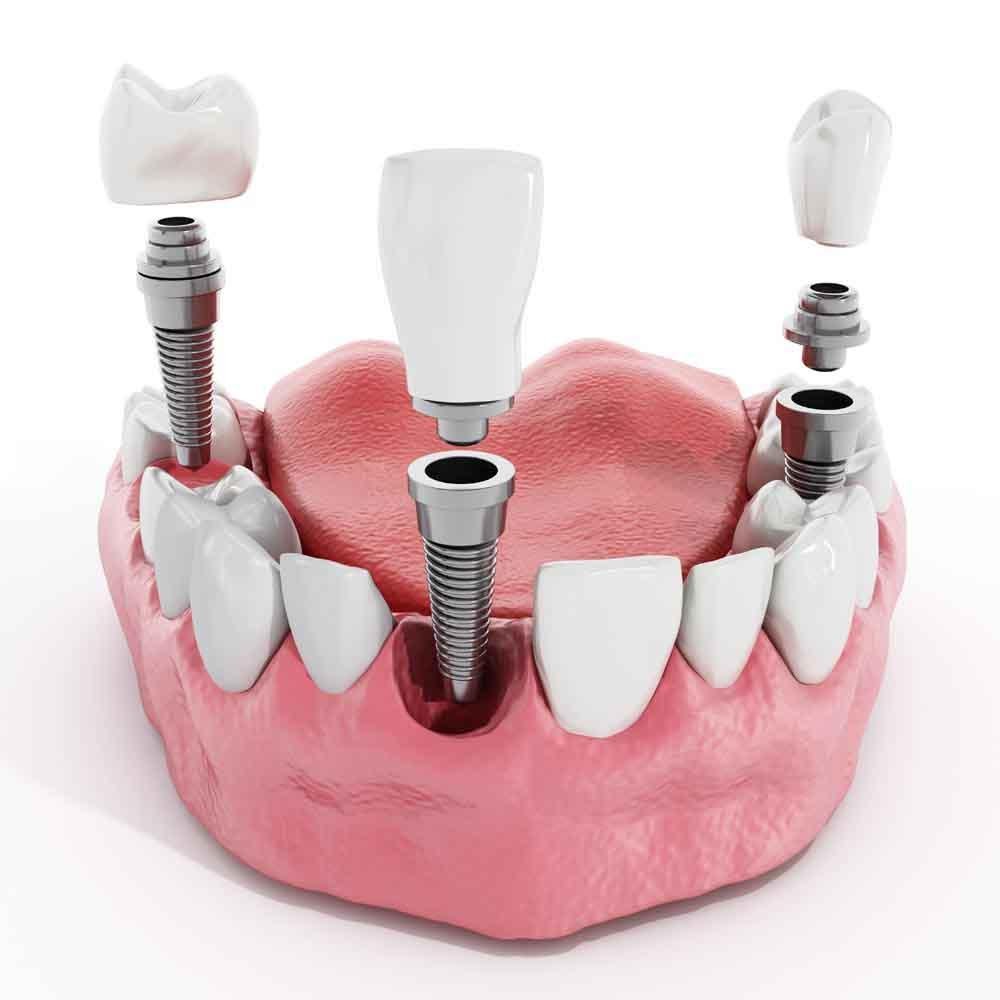 Why Are Implants a Solution for Gum Ulcers?
Ulcers most often appear as a painful burn on the gums. They have a whitish, inflamed appearance with a reddish rim. They are most often created by a trauma of pressure or friction, caused in particular by unstable dentures.

Unfortunately, there are no solutions to accelerate the healing of an ulcer. The cause must be eliminated, period. You can find products in pharmacies that only provide a symptomatic solution, i.e., they only mask the pain, but they do not accelerate healing. As is often said, an untreated ulcer takes 14 days to heal, and with an ointment, it takes 2 weeks!
What if your prostheses stop moving? What if they were stable enough to allow you to eat whatever you want whenever you want? All this is possible with dentures stabilized by dental implants. It's a less complicated solution than you might think! Comfort is accessible! Talk to our professionals at the Centre dentaire & d'implantologie Boucherville: it will be our pleasure to guide you!
« It's far too expensive for me. It's far too expensive for me. »
Naturally, before making a decision about an implant treatment, you should consider your budget. Many people have the impression that quality implant treatment is expensive. It obviously depends on how we evaluate this expense! When we consider that a car is an expense that many people can afford without hesitation, when the value of the car decreases by half as soon as it leaves the garage; well, that's expensive!
When we consider that an implant treatment improves daily life quality, that it allows you to regain adequate chewing, thus contributing to reducing the incidence of diabetes and to reduce stomach aches resulting from poor chewing, we must ask ourselves again, "is it really that expensive?"