Oral health sometimes tends to be ignored. Its impact on our overall health is often underestimated, yet it is vital not to overlook it. Dental implants are gaining ground for their ease of placement, durability and versatility.
Do you want to know everything about dental implants? Will you benefit from them? Read on: the Centre Dentaire & d'Implantologie Boucherville gives you all the details!
---
Dental Implants: To Replace One or More Teeth
When a tooth cannot be partially restored and must be extracted, the dental implant preserves your teeth by replacing them.
It is important to understand that leaving an empty space in your teeth greatly increases the risk of dental misalignment. This is where a dental implant can help.
What is a dental implant? A dental implant is a ceramic replacement tooth that is placed on a titanium screw. The screw is integrated into the jawbone through local surgery.
The materials chosen for the dental implant are important. The titanium screw is placed like an artificial root. Why titanium rather than any other metal? The human body can easily adapt to the presence of titanium in the mouth and it does not interfere with normal body functions.
Ceramic, on the other hand, is strong, can withstand the chewing forces used to eat, and its color can be adjusted so that it is not so different from the rest of your teeth.
Dental implants are not the same as dentures, which often restore all the teeth in a row. In the case of a single tooth or a section of teeth, implants are now preferred whenever possible.
Implants have a very long lifespan, similar to that of restorations. We are talking about 20 to 30 years, sometimes even for life! Your dentist will be able to advise you on your best options.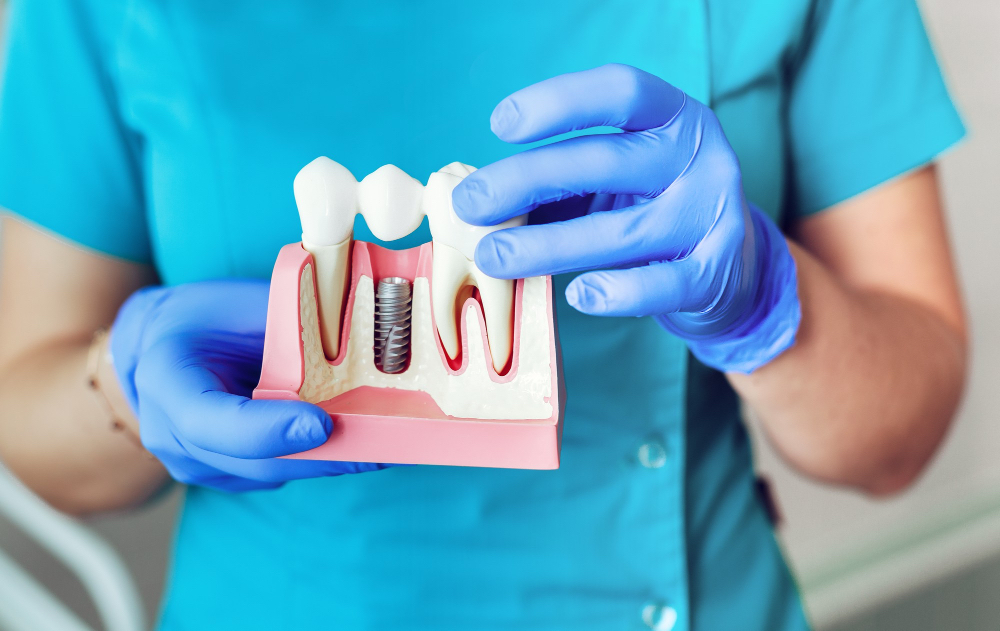 How Are Dental Implants Fixed?
Implant fixing is rather rapid and should not be too confusing if you have been to the dentist before.
A local anesthetic is administered using a needle. Once the anesthesia is done, the fixation of the implant can begin.
Before you start reading the description, remember that everything is carried out under anesthesia! You will not feel anything, and postoperative pain is minimal. It is possible that there will be some swelling. Bleeding may also occur during the first few days.
The length and diameter of the implant to be replaced must first be determined in order to choose the most appropriate option.
The fixing
The maintenance
The healing
The implant is fixed by drilling into the gum. An abutment is placed on the implant and the ceramic tooth is placed on the abutment.
Its ease of placement is attractive for replacing a tooth with an artificial tooth without the need for a denture.
It is easy to install and maintenance is minimal. All you have to do is brush and floss your teeth as usual.
Since it is fixed, you don't have to worry about it outside of normal dental care.
However, it is important to point out to your dentist of any discomfort so he can check how to adjust the implant if necessary.
After placement, avoid overworking your teeth for a few days. Keep your mouth well hydrated by drinking plenty of water during the healing process, which will facilitate the healing process.
Do I Need a Dental Implant?
If you are only missing one tooth, the solution is within your reach: a dental implant will prevent complications such as long-term tooth misalignment.
Even when you need to replace a section of several teeth, dental implants can be a convenient solution.
They do not create inflammation, unlike some removable dentures. The act of placing or replacing a denture creates friction that can become painful over time.
Some readjustment of the dental implant may be necessary to give you the best result.
If you are looking for a fixed and durable solution to replace a tooth completely, consider a dental implant. Leaving empty space between your teeth can be very challenging to your dental health!
---
Talk to your Boucherville dentists, who can advise you how to take the best precautions. After all, they are your oral specialists par excellence and will also be able to answer all your questions.
At the Centre Dentaire & d'Implantologie Boucherville, we offer the most common dental treatments, in addition to being able to restore optimal comfort to our patients through our implantology services.
Make an appointment with us today and we will be able to give you the best oral health guidance!