It's recommended that you regularly schedule a visit with your dentist to have an oral exam done. At first glance, you might think it's a waste of time, but it's very important to do so to maintain good health and an adequate dental hygiene.
The team at the Centre Dentaire & d'Implantologie Boucherville is there to help you learn more about dental exams.
---
Why Do We Need a Regular Dental Exam?
The reasons why it's important to regularly have a dental exam are closely tied to its objectives. In fact, dental exams have three main objectives:
Help prevent any dental problems.
Make a diagnosis on the general state of a patient's mouth.
Propose a treatment plan if a problem is found.
Since the purpose of a dental exam is both prevention and diagnosis, it's important to ensure that your mouth stays in good health and that your dental hygiene habits are appropriate.
Although dental exams help to prevent potential problems, it's important to understand that a cavity or any other kind of infection might occur between two visits. If you think there's a problem with your mouth or your teeth, don't hesitate to make an appointment before your next routine check-up.
How Often Do You Have to Visit the Dentist for an Exam?
Broadly speaking, it's recommended to have a dental exam at least once a year. However, every mouth is different, and it's possible that your dentist suggests coming in for an exam more often, usually every six months.
Your dentist is the expert, and they'll be able to recommend the frequency of visits that's adapted to your needs and those of your teeth. The regularity of your visits can vary depending on:
The current state of your oral health.
The effectiveness of your oral hygiene routine.
The general state of your health.
Your lifestyle habits.
Indeed, the mouth is an important part of your body; it goes without saying that you need to take care of it. Your dentist could therefore decide that it's important that you come in more often for a check-up to ensure a better follow-up, especially if your oral health is already fragile.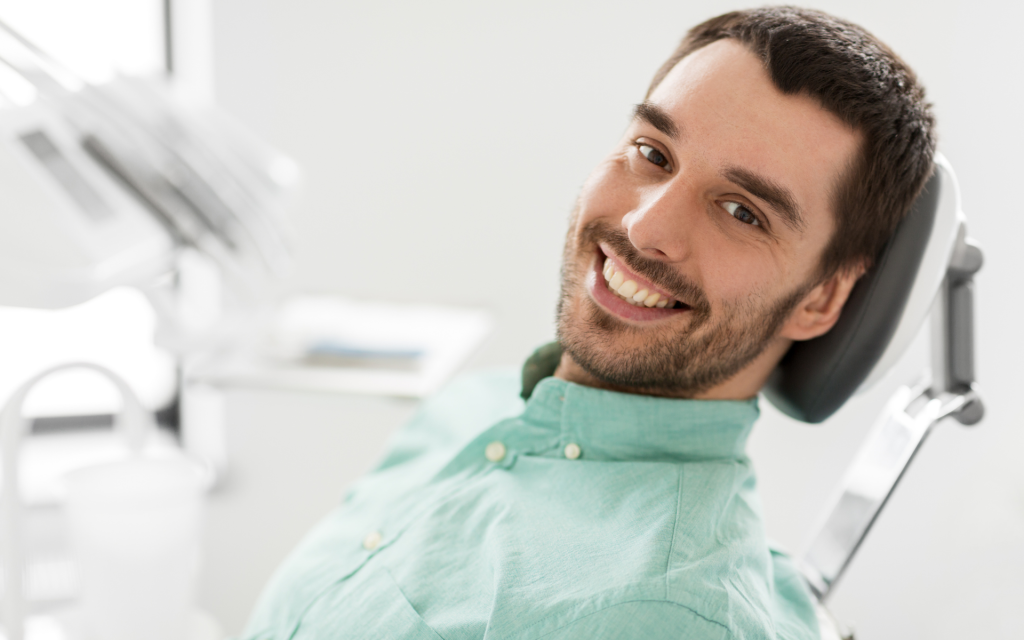 What Happens During a Dental Exam?
First, your dentist will inquire about your health and some habits you might have that could have an effect on your oral health and on the steps necessary during the exam, like:
Smoking
Medications you take
Allergies
Dental and medical history
For the cost of a dental exam, you will have a complete exam: the dentist will check all the corners of your mouth, including your teeth, gums, tongue, the soft tissues under your tongue and the inside of your cheeks.
This comprehensive examination will allow the dentist to make sure there are no infections, abnormal tooth wear or any other problems with your mouth.
Your dentist might also suggest having dental X-rays taken, to have a more extensive view of your mouth. This is considered harmless, since the amount of radiation produced by the machine is very low and limited to the targeted area.
The dental exam is also preceded by scaling and by the complete cleaning of your mouth, so that the examination can proceed as well as possible and the dentist doesn't miss any signs that could betray an oral health problem.
Of course, this thorough cleaning has also the effect of bringing your mouth back to a clean condition that will make it easier to maintain with good dental hygiene habits.
Dental Exam Costs and Rates
In line with requirements from the Ordre des dentistes du Québec, the rates charged for dental treatments can vary from one dentist's office to another. The costs will also depend on what's included with the dental exam.
However, the Order requires that patients are well informed of each step of the treatment plan, and that they agree with each step and its associated fees. In other words, you'll always be aware of the dental exam costs before the exam begins. This information is also available for any other visit that you might have at the dentist.
Generally, you can expect a price between $125 and $175 for a dental exam. Of course, find out with your dentist before you make an appointment, so you can be sure about the rates and fees that will apply during your visit.
---
For all your dental needs, contact the Centre Dentaire & d'Implantologie Boucherville today. We'll happily welcome you at our clinic!