I've just been told by my dentist that my teeth are loosening, and a lot of questions came to my mind, including what loosening teeth really means and what treatments are available to me.
The team of professionals at Centre Dentaire et d'Implantologie Boucherville can tell you more about this matter and how to prevent it.
---
What Is Tooth Loosening?
From the outset, it's important to define the topic in order to better understand what we are talking about. Tooth loosening occurs as a result of gum deterioration. The gum no longer fulfils its role of holding the teeth in place. Teeth become more mobile and may even fall out when the gum is no longer able to hold your teeth properly.
Many people also speak of gingival recession to indicate that the gums tend to pull away (gum retreat), leaving your teeth exposed. This noticeable wear is often caused by periodontitis, an inflammation of the gums and jawbone that can lead to tooth loss.
Periodontal disease is very common in people, but as many specialists point out, it is unfortunately detected at a late stage by affected individuals. It is therefore useful to know more about this disease and to be able to spot its symptoms. In addition, regular visits to the dentist will be beneficial, and the professional will be able to intervene promptly if necessary.
How Does Tooth Loosening Occur?
First of all, loosening of the teeth can have a bacterial origin, which generally leads to infection of the gums and subsequent loosening of the teeth. The primary cause of tooth loosening is poor oral hygiene. We will discuss this later.
However, this is not the only cause. There are also genetic reasons and more intrusive factors such as diabetes, smoking, bruxism and poor tooth positioning.
We mentioned earlier that the cause of tooth loosening can be gum inflammation. Frequently, gingivitis comes first, causing swollen gums, redness and bleeding when brushing. If gingivitis is not treated quickly and properly, it can develop into periodontitis, which is what we are talking about here.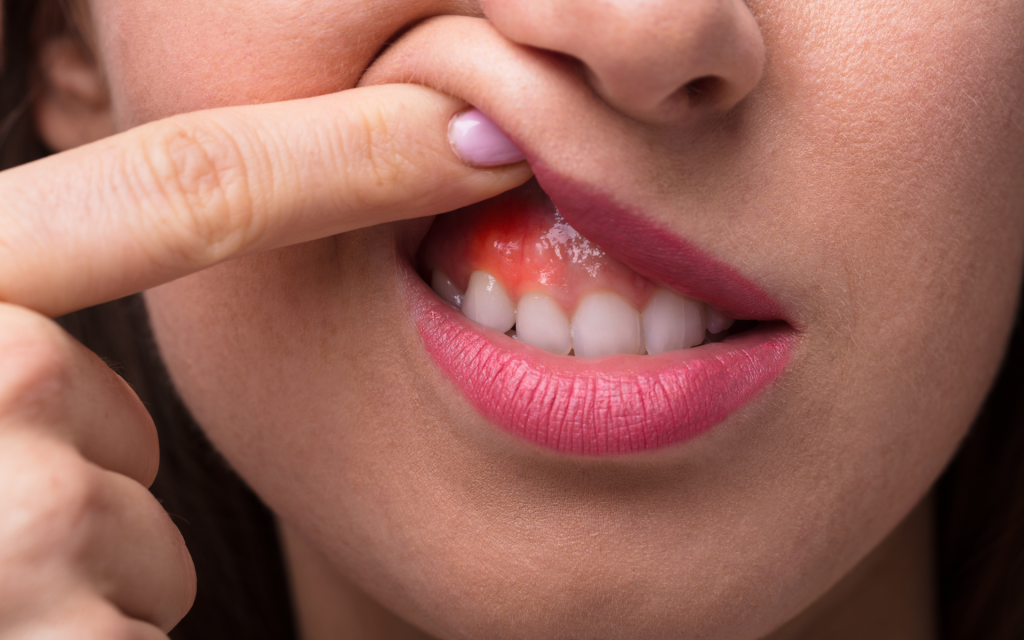 How to Recognize Loosening of the Teeth
We've already seen that the primary cause of loosening teeth is often infected gums.
You can therefore observe the following symptoms and discuss them with your dentist for effective and optimal treatment.
Among the most frequent symptoms we can identify:
Red gums
Bleeding gums when brushing teeth
Abscesses in the mouth
Swollen gums
Loose teeth
Sensitivity to cold
We could add to this list bad breath and a narrowing of the gums (receding gums) revealing teeth that are longer than others.
How Is Gingivitis Treated?
To prevent your teeth from loosening, we suggest regular visits to your dentist, who can identify and treat periodontitis. The earlier you intervene, the better the results.
If you have experienced one or more of the symptoms listed in the figures above, we advise you to make an appointment at the Centre Dentaire & d'Implantologie Boucherville as soon as possible.
As a first step, your mouth will be thoroughly cleaned, scaled and, in some cases, antibiotics may be prescribed to stop the inflammation.
Unfortunately, in less favorable and more advanced cases, the dentist may recommend a gum graft if the gum is too badly damaged.
Can Tooth Loosening Be Prevented?
The answer is: yes!
An improved oral hygiene is essential to prevent gum inflammation and tooth loosening. Daily brushing and flossing to remove food deposits will help keep your teeth and mouth clean.
So, during your next routine visit, don't hesitate to ask questions about brushing and flossing. Our on-site hygienists will be happy to give you sound advice and take the time to demonstrate, if required.
Last but not least, regular visits to the Centre Dentaire & d'Implantologie Boucherville will allow you to have your teeth scaled, which will also benefit your gums.
---
For a consultation or an examination and cleaning, our team of professionals will take good care of your teeth. Book an appointment today!