During most routine checkups at the dentist's office for a routine checkup, the specialist who regularly handles most of the visit with the patient isn't in fact the dentist, but rather the dental hygienist. In fact, there's much more to being a dental hygienist than just cleaning your teeth. Find out what these professionals do and why you should visit them on a regular basis!
The Centre Dentaire & D'implantologie Boucherville gives you an insight into the profession and shows you all the things that dental hygienists are able to do for you. Highly qualified dental hygienists are ready and waiting for you at your local dentist on the South Shore!
A Profession All Its Own!
Did you know that all dental hygienists have to be members of a professional order, the Ordre des hygiénistes dentaires du Québec? This occupation is governed by its own set of regulations and Code of Ethics, and as such, dental hygienists are also experts who act independently of dentists.
When we think of dental hygienists, the first thing that comes to mind is teeth cleaning and scaling. But this is only one aspect of the many treatments that are carried out by a dental hygienist. Cleaning and scaling is important as it helps to treat inflammation and to eliminate diseases such as plaque and tartar. Maintaining healthy teeth and gums is as such a vital reason to check in with your dental hygienist regularly!
Dental hygienists can also administer desensitizers, anesthetics and fluoride. They actively participate in treating and preventing oral diseases and conditions.
Prevention is an integral part of their daily routine. On the one hand, these health care professionals play an active role in education, awareness and the promoting healthy oral practices.
Our dental hygienists can teach children and adults alike about proper hygiene practices and everyday preventive care. From brushing and flossing techniques to dietary advice and individual precautions to take, they make for excellent teachers.
Should you ever need a recommendation, for example, on the choice of a toothbrush or toothpaste, your dental hygienist will know how to advise you. The professionals at the Centre Dentaire & D'implantologie Boucherville can answer all your questions and refer you to the right dentist if needed!
Diagnosis also plays a key role in the dental hygienist's field of expertise as he or she can detect the onset of any oral health issue. Using a visual assessment, the dental hygienist can identify conditions such as gum disease, lesions and other symptoms.
Furthermore, by taking X-rays, when necessary, dental hygienists can determine other problems such as cavities, infections or abscesses beneath the occlusal surface, among other factors. Dental hygienists take radiographs and read the resulting image to advise the dentist of any diagnosis or abnormality in the teeth and gums. Similarly, they can perform various types of screening tests, photographic images or even casts if necessary.
Your dental hygienist can therefore catch diseases at an early stage so that they can be treated quickly and effectively. Our professionals will monitor you afterwards, for example if you are suffering from gingivitis.
Although surgical procedures are not among their many responsibilities, dental hygienists can handle many different types of treatments!
Cosmetic dentistry is one of them. Want to have your teeth whitened? Your dental hygienist will handle it for you.
Seeing your dental hygienist is crucial to prevent and detect oral diseases, to maintain good habits, to get personalized advice and more. There is simply no shortage of reasons to consult them! So, get in touch with the oral hygienists at the Centre Dentaire & D'implantologie Boucherville to make an appointment today!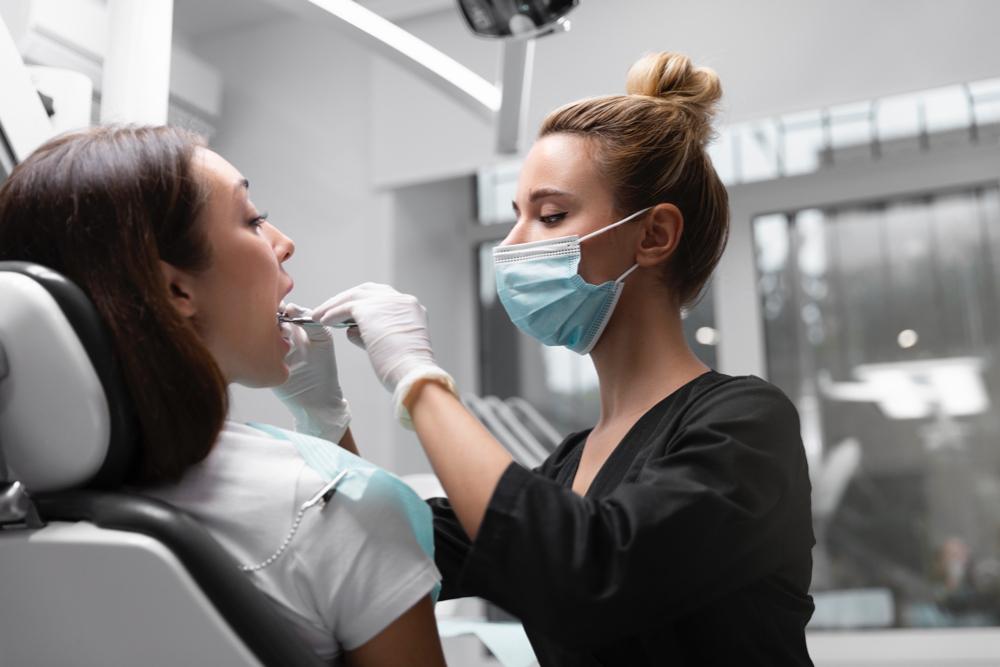 A Multidisciplinary Team of Dental Health Care Professionals
At the Centre dentaire et d'implantologie Boucherville, you will find a team of highly experienced and knowledgeable healthcare practitioners. We combine state-of-the-art technology with our extensive knowledge to provide you with the most accurate and rapid diagnosis and treatment possible, regardless of the type of care you need.