As much as we want to put the pandemic behind us, it is still around and reminds us to be vigilant. The Delta variant is active in Quebec and there has been an increase in cases since the beginning of August 2021.
Always striving to provide good care to its patients, the Centre Dentaire & d'Implantologie Boucherville takes all the necessary measures and abides by the instructions of government authorities. Today, we'll tell you exactly how we intend to ensure the well-being of our patients, now and always!
Compliance With Instructions Always
In previous waves since March 2020, one could have expected that dentists would have been more at risk than others to suffer from COVID-19. Indeed, they are in regular contact with patients, in small environments, and, most problematic, they treat oral conditions.
The good news is that when we look at the data reported by Public Health, we see that no cases of infection in dental clinics have been reported. However, the greater Montreal area was at the heart of the pandemic and most cases were counted there. In Montérégie, the number of cases was also significant, and several measures had to be taken at various times in 2020 and 2021.
On August 28, 2020, the president of the Ordre des dentistes du Québec (ODQ), Dr. Guy Lafrance, did not seem overly surprised by the data from Public Health. He told the daily newspaper La Presse that "dentists are very used to working in environments contaminated by bacteria and viruses." Indeed, dentists operate in this environment and practise their profession with the concern of scrupulously respecting sanitary measures.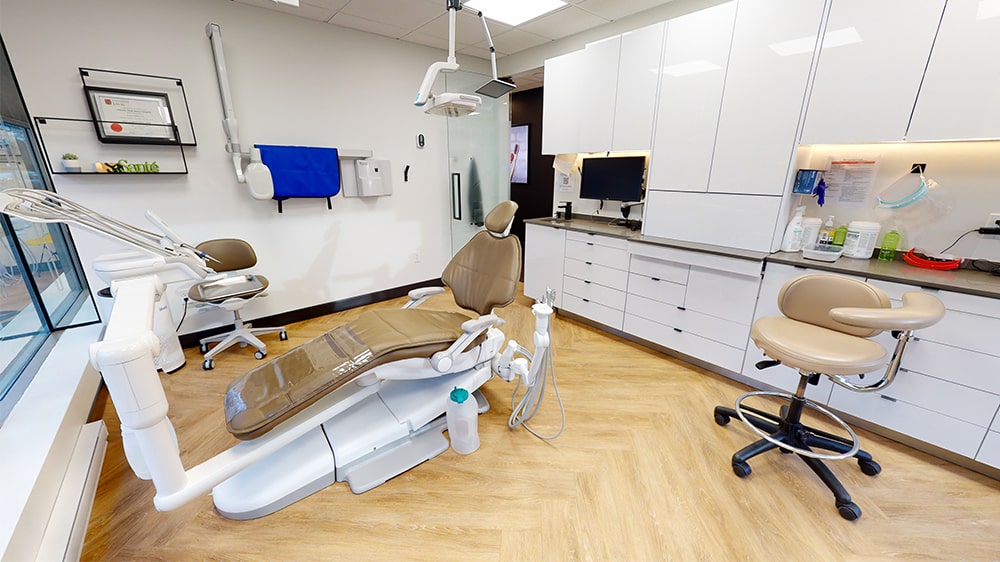 At the Centre Dentaire & d'Implantologie Boucherville, Dr. Lachapelle, Dr. Dagenais and Dr. Le, as well as the entire team of professionals, take very seriously the 4th wave of the COVID-19. They are also implementing the oral procedures of the Ordre des dentistes du Québec. Not only are our precautionary and disinfection measures implemented by our team, but we also make sure that our patients, who come largely from the South Shore of Montreal, are constantly monitored. We ask the usual questions and make sure that our rooms are disinfected after each visit; our team is dedicated in this sense, and we like to say that we follow Public Health instructions to the letter.
As with the other waves, the Centre Dentaire & d'Implantologie Boucherville is ready and will continue to provide high quality professional services to its patients in Boucherville, Longueuil, Varennes, Verchères, Sainte-Julie and elsewhere on the South Shore, with the same rigour as before while respecting the sanitary measures of the Quebec government.
Your dentists Lachapelle, Dagenais and Le are prepared for this fourth wave. They are aware of the measures in effect, they apply them scrupulously and make it their duty to inform their clients. At the Centre Dentaire & d'Implantologie Boucherville, nothing is left to chance, and we are proud to say that the oral health of our patients requires strict hygiene measures.
A Team Ready to Welcome You!
The team of Dr. Marjorie Lachapelle, Dr. Patrice Dagenais and Dr. Tina Le is dedicated, welcoming and professional. We are passionate about our work and our team knows exactly how to get things done. We enjoy welcoming you, catching up on news, answering all your questions and giving you our best advice to improve your oral health. Come visit us today and discover the quality of our care and of our warm welcome. The Centre Dentaire & d'Implantologie Boucherville, professionals who make you smile!