You feel intense pain, have difficulty opening your mouth, notice swelling near a tooth and see pus draining from it. These are just a few of the signs that should alert you to the possibility of infection.
Dental abscesses are often painful and must be treated immediately! In this article, we demystify the condition, tell you how you can recognize a dental abscess and what to do about it.
---
What Is a Dental Abscess?
Before defining a dental abscess, it's worth stressing that it's essential to consult your dentist as soon as possible, even if the pain isn't too obvious, as this infection can sometimes have unfortunate consequences for your overall health.
To begin with, we can define a dental abscess as an accumulation of bacteria that creates a localized pocket of pus in your mouth. There are generally two types of abscesses, depending on their location.
First, there's the apical abscess, which is dental in origin. What does this mean? Its main cause is necrosis of the nerve following a major cavity that was not treated on time. Oral health professionals also mention that this abscess can appear following an impact on a tooth that has resulted in a fracture. For example, apical abscesses can develop in candidates used to rough or violent sports, where the face and jaw are not well protected.
Secondly, periodontal abscess is an inflammation of the tissues surrounding your tooth. The various possible causes of such an infection are:
loose tooth
ill-fitting prosthesis
periodontal disease such as gingivitis or periodontitis
Your dentist can quickly detect which abscess is causing you pain, and treat it appropriately.
What Symptoms May Occur?
There are certain symptoms that can indicate the presence of a dental abscess. Among the most common are:
A throbbing, continuous pain, usually accentuated when chewing
A swollen area in your mouth
A well-localized yellowish or white mass of pus
A distinctive reddening of the mouth when the abscess is not yet fully developed
Pus discharge
Fever
Difficulty opening the mouth and swallowing
In these cases, you should make an appointment with your dentist as soon as possible. Moreover, it's important not to try to pierce or pop the abscess yourself, even if it's already pierced, as this will not treat the infection. Your dentist is the ideal professional to treat this type of abscess.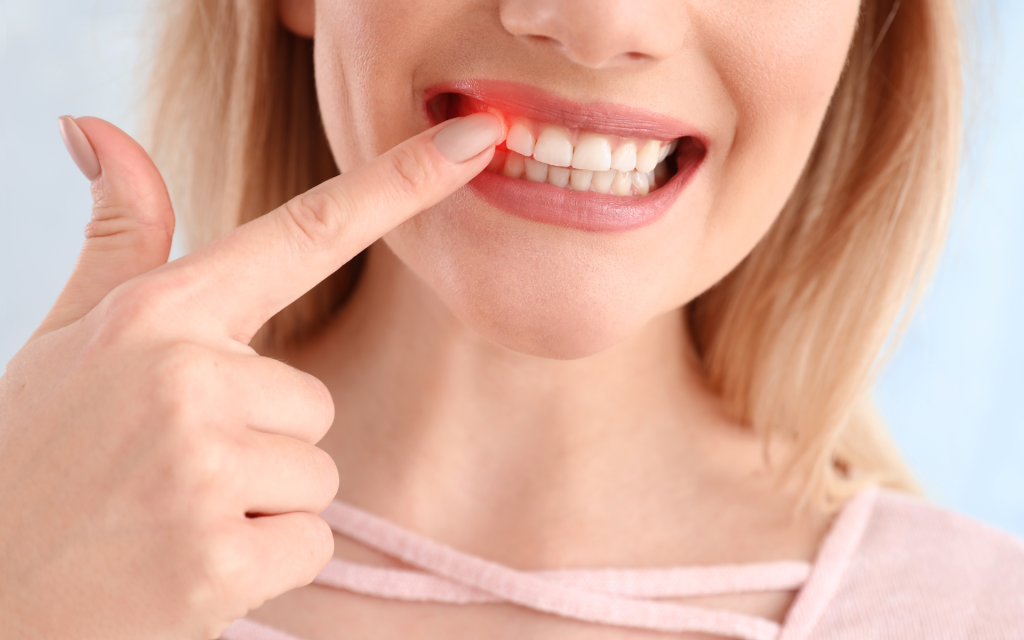 Dental Abscess: Treatment Options
After diagnosing your abscess, your dentist will perform a pus drainage or abscess curettage to thoroughly clean the infected area. He will prescribe antibiotics if necessary to stop the infection, and perhaps a pain-relieving medication if the pain is persistent.
Your dentist may also treat the infection. If the infection is serious, the affected tooth will be treated. In the case of a periodontal abscess, the dentist will carry out a thorough treatment of the periodontal tissue involved.
You should also be aware that sub-optimal oral hygiene is often the main cause of dental abscesses. In fact, abscesses cause cavities and periodontal disease, which also manifest themselves as infections. Good oral hygiene is undoubtedly the prevention way to favor.
But that's not all! In addition to regular brushing and flossing, there are other good habits you can adopt to prevent the onset of such infections: regular visits to the dentist for check-ups and dental scaling, a healthy diet that limits the intake of sugars and acids, as well as a reduction in alcohol consumption.
Our Dental Center Is Ready to Welcome You
The Centre Dentaire & d'Implantologie Boucherville is at your disposal if you are suffering from an abscess, for example. Because it's a painful infection, we'll take care of you as quickly as possible. Don't hesitate to contact us now so we can help you!
---
The professionals at the Centre Dentaire & d'Implantologie Boucherville are experienced in treating this type of infection and will use all their expertise to reduce your pain and eradicate the dental abscess. Put your trust in a seasoned team that cares about the health of its patients.