Flossing Is an Essential Step for Good Oral Hygiene 
Your dentists Dagenais, Lachapelle & Le from the Centre Dentaire & D'implantologie Boucherville will tell you that regular brushing is essential to having and maintaining good quality gums and teeth. And to be totally effective, it must be accompanied by regular flossing. There are several types of floss, depending on the characteristics of your teeth (e.g., tooth spacing). Your South Shore dentists  will help you determine which product is best for you.
For good oral hygiene, two steps must be followed: brushing AND flossing. Often neglected, the second step is not optional. Not flossing is equivalent to leaving one-third of the surface of your teeth uncleaned! Flossing allows you to reach places that the brush can't reach and thus eliminate a large part of the debris that gets into the gaps between your teeth on a daily basis.
Most importantly, flossing allows you to remove plaque from your teeth every single day. Otherwise, this plaque calcifies and forms hard deposits: tartar, which not only causes unpleasant bad breath, can often have drastic consequences. Tartar causes gingivitis and loosening of the teeth and can even lead permanent tooth loss. Even if your annual visit to the dentist can help remove a good part of it, preventing it from forming is still the best solution.
No, Flossing Does Not Cause Gums to Bleed!
You've been flossing for a short time and you've notice that your gums are bleeding for no apparent reason, so you assume that this new habit has created the problem. Actually, flossing is not the culprit. While it's true that flossing may cause some bleeding in the first few days, it will stop very quickly as your gums get used to the deep cleaning.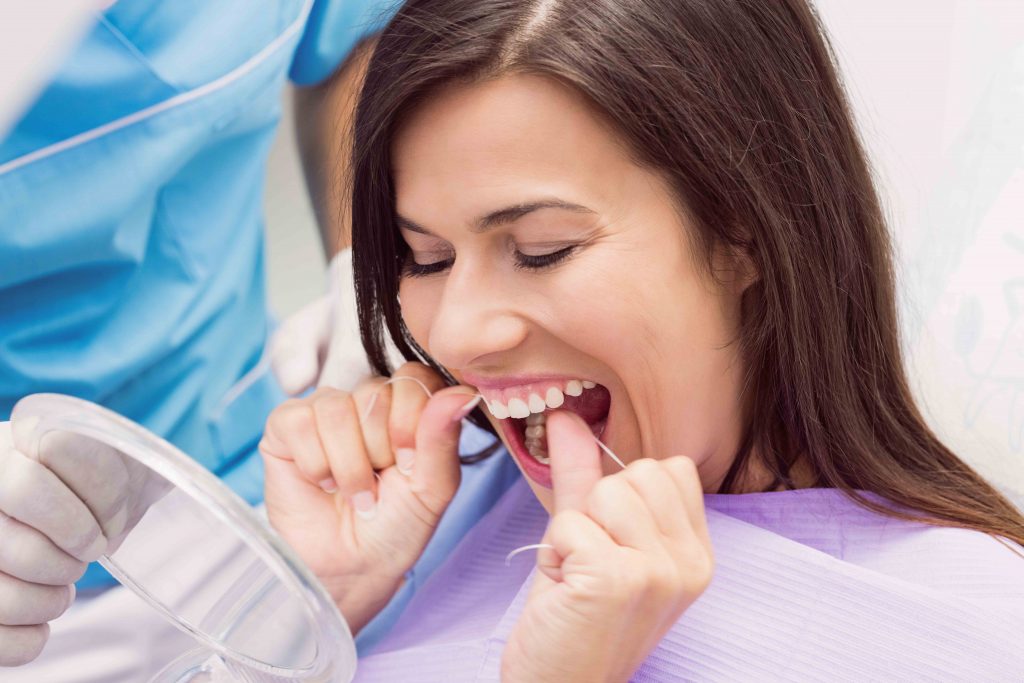 If it does not stop, you should visit your dentist as soon as possible as gingivitis may be the cause. The first sign of this gum disease is bleeding when brushing or flossing your teeth. To be clear: it's not the floss that causes the bleeding, but rather an underlying case of gingivitis.
Different types of floss are available. Made with various materials, they also come in different sizes. They even come in several shapes: floss can be round, flattened, twisted, or ribbon-shaped… Your dentist on the South Shore in Boucherville will guide you in choosing the floss that will suit you best according to your unique teeth: your interdental spacing play a big role in the type of floss chosen.
The instructions for using dental floss could not be simpler:
Cut a thirty-centimeter-long thread of floss;
Wrap this floss around your middle fingers, leaving five centimetres of floss between both hands;
Slide the floss between the teeth, forming a semicircle under the gum, just at the base of the tooth;
Clean both sides of the tooth until all debris between the teeth is removed. That's it!
From now on, whether it's plain or mint (yes, floss can be flavoured!), don't hesitate to use this tool of choice to maintain your dental hygiene. Your professionals at the Centre Dentaire & D'implantologie Boucherville are at your disposal to give you all the advice you need to properly use this crucial tool, which is as essential as your toothbrush.