Your Boucherville dentist at the Centre Dentaire & D'Implantologie Boucherville will tell you: maintaining oral health must start at a young age. It is the parents' responsibility to do everything in their power to ensure that their children's mouths are in perfect condition. Some purists advocate action even before the first baby teeth appear: they recommend wiping your toddler's gums to remove all traces of milk.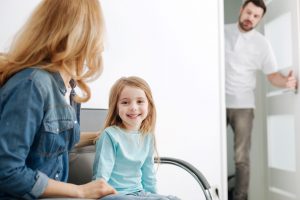 To teach your child good oral habits in the long term, their first visit to the dentist is of utmost importance. The fear of the unknown, which plagues all human beings, especially those young and inexperienced, could lead them to the infamous fear of the dentist in the future. Our caring and attentive experts Dagenais and Lachapelle at the South Shore dental centre will reassure your little ones and give them confidence, allowing a harmonious relationship between patient and practitioner to form. 
The First Visit to the Dentist: Don't Show Any Fear
During this first appointment at the Centre Dentaire & D'Implantologie Boucherville, do not communicate your own fear of the dentist (if you have any) to your child: your child is like a sponge, and can detect the slightest sign of anxiety, especially if it comes from you. After talking to your South Shore dentist, calmly explain to your little one, without going into too much detail, how the visit will unfold. Except in an emergency, the visit will not involve any treatment and will consist of a simple introduction.
When Is the Right Time?
Around the age of two or three, a first visit to the dentist will allow the young child to become familiar with the dental office. The conditions will be ideal since no treatment should be required, except in very rare cases. For adults and children, sitting in the dentist's chair in a medical environment with scary instruments, unknown smells, surrounded by people wearing gowns and masks, can be anxiety-inducing: an early familiarization is therefore recommended.
And then what? Thanks to the help of your practitioner and good preparation for this first session, this first step should go smoothly: removing the drama associated with the first visit to the dentist is the key to success. Now you'll have to schedule regular visits – an annual visit is quite reasonable (unless your dentist advises otherwise, as some cases require more frequent visits).
Establishing a dental care schedule is an idea: it will allow your child to anticipate his or her next visit, to prepare for it and especially to normalize it. And while you're at it, why not pick a future date in a playful way? Every year, the first day of spring can mean an appointment with the dentist, for example… and don't forget to mark it down on a calendar and maybe place it on the fridge.
Regular and early check-ups of your child's mouth have undeniable advantages: some problems can be detected before they appear. Your dentist will know very quickly if your child's teeth are correctly positioned in their jaw, or if they are at risk of cavities because of certain predispositions. The dentist will also take the time to teach to your child the proper way brushing techniques with the right toothbrush.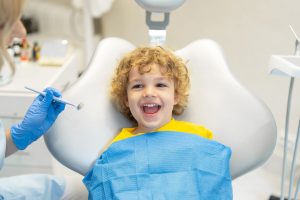 The role of your expert at the South Shore dental centre is not limited to installing dental implants or treating cavities that are already well advanced. Your dentist at the Centre Dentaire & D'Implantologie Boucherville will accompany you with expertise and kindness throughout your child's growth, and your regular discussions will allow them to establish good habits, both in terms of diet and effective dental hygiene. A healthy mouth, well-aligned teeth, and a bright smile: what a wonderful gift from a parent to their child!