For a few years now, the COVID-19 pandemic has disrupted our lifestyles and our health, both mental and physical. Our everyday lives have been turned upside down and we are constantly stalked by feelings of stress and anxiety, especially when confronting an umpteenth wave, sometimes synonymous with lockdowns and reinforced health measures.
Faced with this health battle we all fight, our teeth are weakening. A rise in oral health problems appears, due to all the tension linked to the pandemic.
In these conditions, many symptoms stand out. A professional consultation is then recommended to prevent these problems from leading to complications.
---
The Centre dentaire & d'implantologie Boucherville, composed of a team of seasoned professionals, follows its patients throughout the year with the objective of helping them maintain a good oral health.
Stress Is a Real Teeth Grinder!
More Symptoms: Aches, Grinding, Broken Teeth…
COVID-19 is stressful and that's bad news for your oral health.
Indeed, many studies have observed that the number of patients that involuntarily grind and clench their teeth increases considerably. This event, named "bruxism", is mainly seen in people dealing with stress. This problem, defined as a mandibular parafunction (due to lacking the abilities to chew, swallow or speak), can cause muscular pain and teeth deterioration.
Bruxism can be separated into two categories.
The first one is "dynamic bruxism". In this case, the "bruxer" rubs their teeth laterally or back and forth, making an unpleasant sound. This movement is considered dynamic.
The second category, named "static bruxism", is mainly the result of an effect of vertical pressure due to clenching your teeth, without lateral movements. Although no sound comes from this compulsion, headaches and other muscular pains can appear.
Subsequently, the extreme force of grinding during your sleep can lead to complications that are often difficult to manage. Indeed, the teeth weaken, along with having an aching jaw in the morning. Unconscious grinding damages your dentition (built to resist to the pressure of chewing), which can lead to your teeth cracking or chipping.
Middle-Generation People Are Most at Risk
Though this phenomenon affects children and adults alike, as well as men and women, most people that suffer from bruxism and some temporomandibular disorders are between the ages of 20 and 50 years old. Many studies show that these pains tend to diminish with age.
In these COVID-19 times, according to researchers, these results linked to stress could be explained by self-quarantine, sometimes with young children and without outside help, while having to do your professional activities in remote working, and all that while also worrying about the grandparents vulnerable to the virus.
Presenting itself as a chronic or temporary problem, around 14% of children suffer from bruxism, compared to 11% for the adult population. This problem affecting oral health must be diagnosed and treated.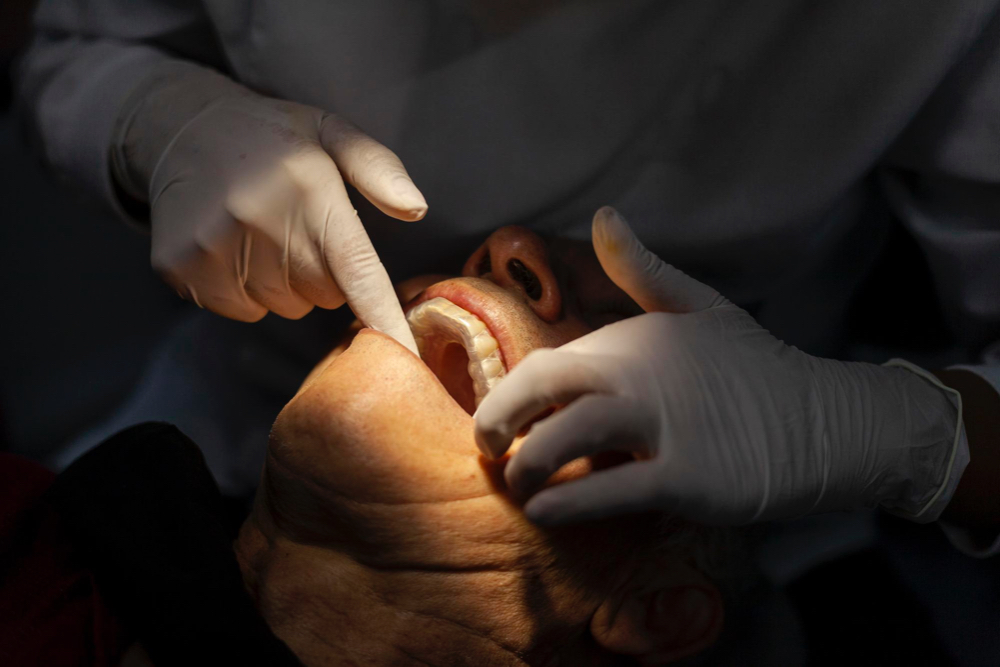 Mandibular Guide Flange: A Preventive Solution to Bruxism
Also called "articular flange", the mandibular guide flange has the form of transparent plastic gutters. The appliance can cover the upper teeth, the lower teeth or both at the same time based on the bruxer's facial features. This device protects your teeth to fight against any weakening caused by grinding and clenching, but also to absorb the forces used.
Using mandibular guide flanges, the harmful effects of grinding your teeth are considerably diminished. Teeth stop weakening and the sensitivity isn't amplified. Also, muscular pain and spasms are reduced, allowing your jaw to recover gradually.
Mainly used at night, since bruxism mostly happens at that time of day, the mandibular guide flange is an excellent means to reduce the symptoms caused on our teeth by stress and anxiety.
---
On the South Shore, the Centre dentaire & d'implantologie Boucherville professionals welcome you and take the time to answer all your questions to deal effectively with your bruxism problems.
Book an appointment now and come meet a team that offers a high-quality service. At the Centre dentaire & d'implantologie Boucherville, your teeth will thank us!