General dentist
Dr. Le graduated from Université Laval in 2009 and now has close to 15 years of professional experience in private practice, including 5 years working with the current team.
Dr. Le has taken various continuous education courses in all spheres of dentistry, to provide better guidance to her clients (pedodontics, gingival grafting, dentofacial orthopedics, endodontics, orthodontics and operative dentistry).
She has a marked interest in temporomandibular pain and sleep apnea. In addition, she has completed the curriculum of the Canadian Occlusion Institute and has recently started advanced training with the Dawson Academy.
She is part of the first cohort of dentists having completed the advanced training curriculum on sleep apnea.
In her free time, Dr. Le loves to travel to satisfy her adventurous side and epicurean streaks!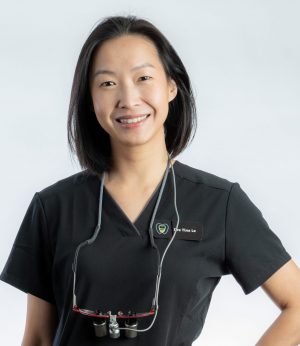 Member of the following dental associations