A Healthy Mouth and Healthy Teeth for People of all Ages
As we age, each passing year not only affects our overall health, but also our oral and dental health; time does not spare anyone. As we grow older, the onset of chronic diseases, the use of certain medications, and an unhealthy diet, can all contribute to a gradual deterioration of the health of our teeth, gums, and mouth, ultimately impacting our overall health.
At the Centre Dentaire & D'Implantologie Boucherville, our experts are well aware of these age-related factors, and want to help you maintain a healthy mouth and teeth. Keep in mind that while many problems can arise with age, there are also many solutions. Seeking the advice of your South Shore clinic dentist is the first step on the road to a healthier life. If left untreated, it can be difficult, if not impossible, to deal with the problems that arise.
We often ignore the fact that poor oral health can lead to the onset of diseases and infections that can impact our overall health. For example, some bacteria in the mouth can migrate into the lungs and cause an infection such as pneumonia. While this may come as a surprise to some, remember that as a person gets older, his or her immune defences are weakened, which makes the person less resistant to infection than a younger, more vigorous individual.
How Maintaining Good Oral Health and Hygiene Can Help Protect Seniors
By keeping your teeth healthy, you can avoid a number of troublesome and painful dental and oral health problems: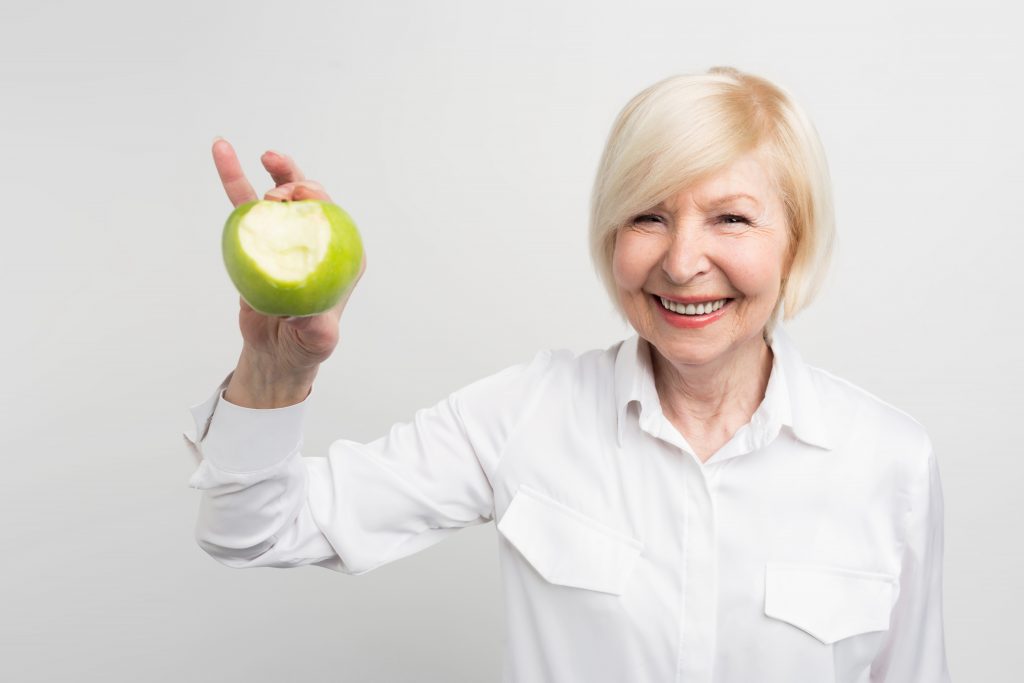 Gum tissue damage that can lead to tooth decay and loss of teeth;
Onset of lung or heart disease or stroke (some toxins in the mouth can migrate to the heart or lungs);
Tooth sensitivity;
Cavities;
Loosening and loss of teeth;
Bad breath (halitosis);
Tooth discolouration;
etc.
With age, we become more fragile and the risks of contracting certain oral diseases such as periodontitis, inflammatory diseases of the gums and surrounding osseous tissue, become more and more significant. In addition to triggering an inflammation of the gums that can lead to the loss of our teeth, these diseases can also lead to diabetes in the afflicted person. The reverse is also true – a person with diabetes frequently develops gingivitis.
Gingivitis often leads to dry mouth among the elderly. This is very unpleasant and creates major inconveniences: Saliva plays a very important role in our oral health. It ensures a good level of humidity in the mouth, protects our teeth against cavities, and prevents viruses, bacteria and fungi from taking residence in the mouth. Without saliva, infections can flourish in a compromised system.
Seniors also frequently experience tooth loosening, which results in the loss of teeth. This not only leads to catastrophic cosmetic harm by robbing us of our beautiful smile, which is so essential in our relationships with others, but it can also prevent us from enjoying a normal diet. Chewing properly means having all our teeth intact, whereas poor chewing also means poor digestion, a weak stomach and weak intestines.
To sum it up, good oral hygiene is equally vital for the elderly as it is for younger generations. It ensures the best quality of life by helping the elderly maintain a healthy social life (preserving aesthetics and speech), and it also helps them avoid the onset or aggravation of certain serious and disabling diseases. So, whether or not you have dentures and whatever the state of your teeth and mouth, the dentists at the Centre Dentaire & D'Implantologie Boucherville will assist you with kindness and competence to help you regain your beautiful smile.